I'm awaiting the arrival of this blizzard we're supposed to be getting. To me it just sounds like the typical Iowa weather we haven't been experiencing the last two years. Maybe I'll get to have a white Christmas again!
One of my favorite parts of the wedding day was when I got to see M for the first time. We were in the same place for almost ten minutes before I got to see him and the anticipation was killing me! I had to hide for a little bit so he wouldn't see me until I was ready. We were at a park where a band was practicing, people were taking pictures, and kids were all over the playground. Tons of people offered to move their cars so I could get closer but every time I had to explain I was "hiding" until the right moment.
My photographer was awesome! She had us set up in a secluded area so no one else got to be there but us. She caught the expression on M's face perfectly. The look on his face is one that I will never forget! We finally got to be together, going through everything together. I was starting to get anxious and I probably would have had a breakdown had I not gotten to see him. Plus, we got in cool pictures! (Thanks Fonda Photography!)
If you don't want to see your man before the wedding I totally support that. For me, I wanted to have that special moment between us before anyone else saw us. It was important for both of us! If you haven't seen pictures of first looks, google them. They may just persuade you! As for walking down the aisle, it was even more special because we got to see each other before hand. I still cried like a baby but Mom said she couldn't even tell so success on my part. I must have pulled it together on my long walk to M.
I think this looks like I'm picking my nose..but my family likes it
Biggest smile I've ever seen :)
One of my absolute favorites!
Quite hard for us to keep a straight face haha
Linking up to this Wedding Wednesday party! Check it out for more posts :)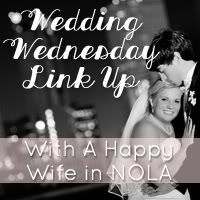 Did you do a first look or was your aisle the first place you saw the one you love?
xoxo Mandy

fondaphotography.com